Product Description: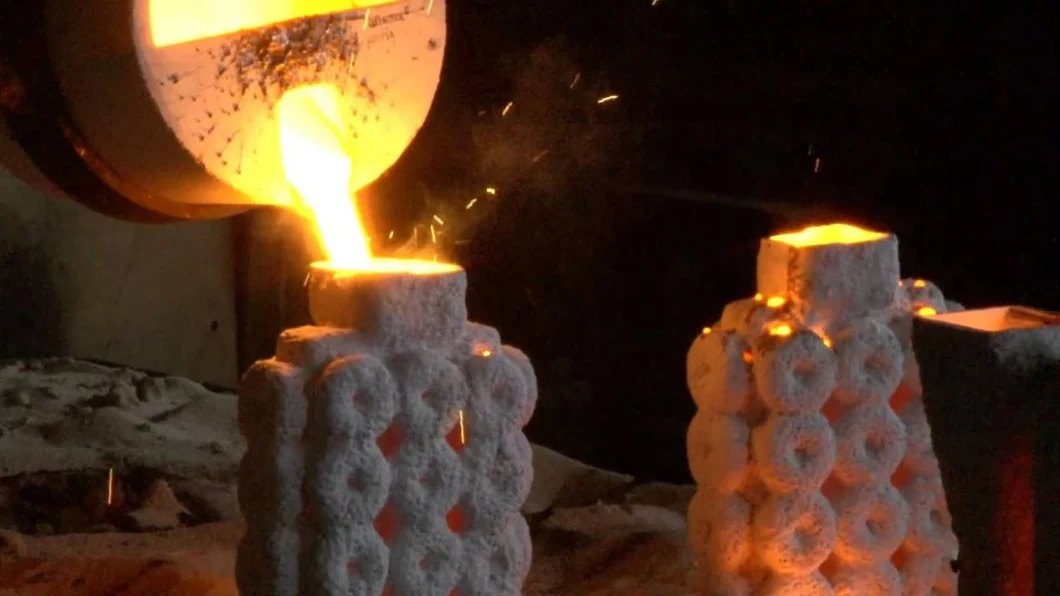 What is casting?
Casting is a manufacturing process in which a liquid material is usually poured into a mold, which contains a hollow cavity of the desired shape, and then allowed to solidify. The solidified part is also known as a casting, which is ejected or broken out of the mold to complete the process. Casting materials are usually metals or various time setting materials that cure after mixing two or more components together; examples are epoxy, concrete, plaster and clay. Casting is most often used for making complex shapes that would be otherwise difficult or uneconomical to make by other methods.Heavy equipment like machine tool beds,ship's propeller etc. can be cast easily in the required size rather than fabricating them by joining several small pieces.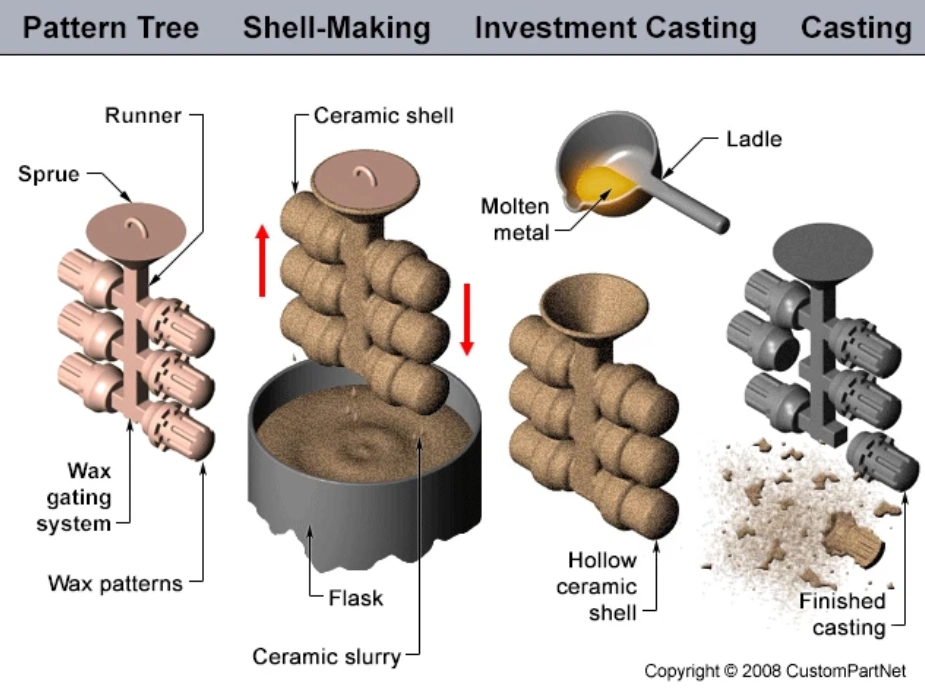 Product Specifications:

Material:

Aluminum, A380, A356, ADC12, AlSi10Mg, 104, 102 etc.

Dimension:

According to the drawing or sample

Standard:

DIN GB ISO JIS BA ANSI

Casting equipment:

80T/160T/250T/300T/500Tcasting machine,Sand blasting machine,5T electri stove,Metallographic detector,Independent mould manufacturing

Production Process:

Polish/Sand Blast/EDM/Milling/Texture/Grind/Pre-Treatment/Quenching/Lathe/Wire Cut/Annealing/Temper etc.

Equipment of Casting:
1. High pressure die casting machining:125T/180T/250T/280T/500T/800T/1250T

2. Gravity casting machine: 5 production lines

3. Low pressure die casting machining: 1 production line

4. Sand casting machine: 6 production lines

5. Degassing equipment and opportunities to refine the material

6. Machining: 5Sets CNC Machines;3 sets Milling machines; 3 setsTurning machines; 10 sets drill and tap machines
Casting (metalworking)
In metalworking, metal is heated until it becomes liquid and is then poured into a mold. The mold is a hollow cavity that includes the desired shape, but the mold also includes runners and risers that enable the metal to fill the mold. The mold and the metal are then cooled until the metal solidifies. The solidified part (the casting) is then recovered from the mold. Subsequent operations remove excess material caused by the casting process (such as the runners and risers).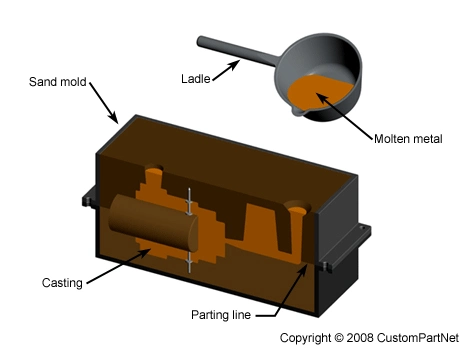 Fettling can add significantly to the cost of the resulting product, and designers of molds seek to minimize it through the shape of the mold, the material being cast, and sometimes by including decorative elements.

Casting process simulation uses numerical methods to calculate cast component quality considering mold filling, solidification and cooling, and provides a quantitative prediction of casting mechanical properties, thermal stresses and distortion. Simulation accurately describes a cast component's quality up-front before production starts. The casting rigging can be designed with respect to the required component properties. This has benefits beyond a reduction in pre-production sampling, as the precise layout of the complete casting system also leads to energy, material, and tooling savings.

The software supports the user in component design, the determination of melting practice and casting methoding through to pattern and mold making, heat treatment, and finishing. This saves costs along the entire casting manufacturing route.
Typical

Feasible

Shapes:

Thin-walled: Complex
Solid: Cylindrical
Solid: Cubic
Solid: Complex
Flat
Thin-walled: Cylindrical
Thin-walled: Cubic

Part size:

Weight: 1 oz - 450 ton

Materials:

Metals
Alloy Steel
Carbon Steel
Cast Iron
Stainless Steel
Aluminum
Copper
Magnesium
Nickel
Lead
Tin
Titanium
Zinc

Surface finish - Ra:

300 - 600 μin

125 - 2000 μin

Tolerance:

± 0.03 in.

± 0.015 in.

Max wall thickness:

0.125 - 5 in.

0.09 - 40 in.

Advantages:

Can produce very large parts
Can form complex shapes
Many material options
Low tooling and equipment cost
Scrap can be recycled
Short lead time possible

Disadvantages:

Poor material strength
High porosity possible
Poor surface finish and tolerance
Seondary machining often required
Low production rate
High labor cost

Applications:

Engine blocks and manifolds, machine bases, gears, pulleys

Why choices us?
In China, we have more than 13 years of experience in processing foreign companies for foreign companies.

China manufacturer in Qingdao,not trade company

Competitive price and nice service

ISO/SGS passed

Application: Automotive,medical device, electronics, toy, furniture, industrial etc.
Our Products:
1. auto parts, classic car parts

2. machine parts, pump body housing, engine parts, cylinders, pistons, transmission housing.

3. cookware parts, kitchen ware parts.

4. medical equipment parts, housing, instrument housing, I beam, housing...etc.

5. Bicycle and motocycle parts, sport equipment parts, housings, covers, heat sinks.
Our Policy:
Innovation and developing in Technique

High level of expertise

Outstanding quality
On-time delivery to customer needs


PACKAGE: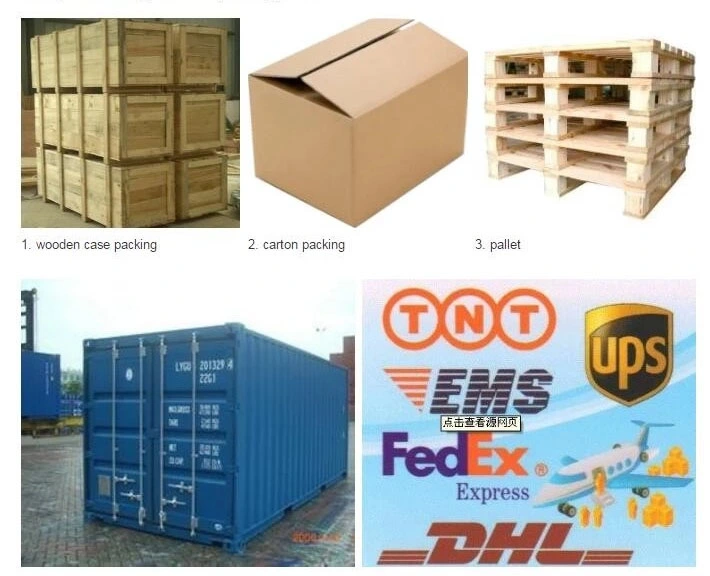 Transport: